The Château de Rochetaillée
Since 1960, the château has housed the collections of the Musée de l'Automobile Henri Malartre, but its history goes back much further.
In the 12th century, a fortified castle was built on this rocky outcrop which overlooks the Saône to keep an eye on shipping coming up the river. Until the Revolution, the Church owned the château and administered it through secular canons. In 1791, following its seizure by the revolutionaries, it was sold as a national property.
In the course of its 11 centuries of existence, the château has undergone numerous modifications: damage from wind and weather, a fire during the Wars of Religion, abandonment… The château as we know it today owes much to Jean-Joseph Clerc, who owned it at the beginning of the 20th century, and his architect Alexis Santu. They refashioned the château in the then popular Belle Epoque style, while maintaining some features from its past history: the mediaeval tower, and some Renaissance chimneys.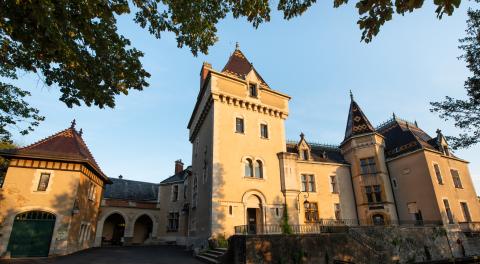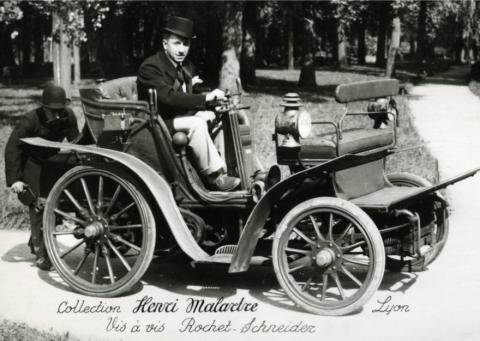 Henri Malartre, collector
Henri Malartre was a pioneer in safeguarding our motoring heritage. The founder of the museum, he patiently collected historic motor cars and also bicycles and motorcycles. His passion for the motor car started when he was very young and he set up a business for car breaking and reselling recycled parts. The turning point of his life was when he bought an 1898 Rochet-Schneider in 1932. He couldn't bring himself to scrap it and he restored it. That was the start of his collection.
In 1939 he fought in the Battle for France. Then he joined the Resistance, was arrested and deported to Buchenwald in 1944. After the war, he resumed his work in restoring and collecting cars.
He installed his vintage car collection in the Château de Rochetaillée-sur Saône in 1959. Once work was carried out to house the collection, the museum opened to the public on 31 May 1960. It was an immediate success, with 120,000 visitors coming to the château during the first year to see Henri Malartre's vintage collection. Supported by his wife, Renée, he extended the museum and took part in many rallies. Wishing to preserve the collection for posterity, in 1972 he gave his museum to the City of Lyon through his friend the Mayor Louis Pradel.
He passed away in 2005, in his 100th year.
Les châtelaines d'Henri Malartre