Visiting itineraries
The collections of the Musée de l'Automobile Henri Malartre trace the history of transport, its development and its social context. They contain numerous vehicles, ranging from vintage cars dating from before 1910 right through to emblematic cars of the 20th century, as well as motorcycles, bicycles, racing cars and public transport vehicles.
Through its function and arrangement, the museum offers a view of different worlds, societies, and vehicles, in a context which excites the curiosity. The museum collections are divided between two buildings: the Belle Epoque château, for the vehicles made before 1910, motorcycles and bicycles; and the exhibition galleries containing the remaining 20th century vehicles including some iconic models, public transport vehicles and racing cars.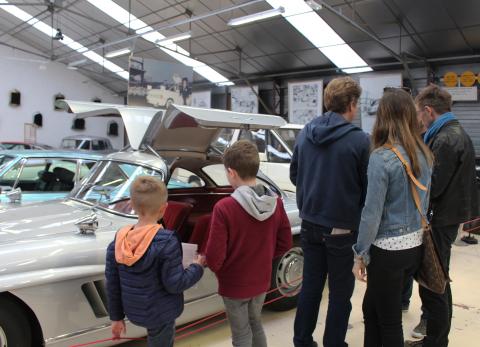 We regularly plan special events to make your visit more enjoyable.
During the short school holidays: visits, workshops, quiz booklets are available during the short school holidays in winter, spring and autumn.
Tours of the collections with a guide on some Saturdays.
'Ready to roll' at the museum: climb aboard one of the three vehicles available and take a trip round the Museum Park with one of our mechanics as driver, with the chance to chat with him about his work.
Three hectares of parkland surround the château. Hundred-year-old trees, lawns and picnic areas with a fantastic view over the River Saône and the villages of the Mont d'Or make it an ideal destination for a family outing in the open air. Free parking, toilets and picnic tables are available to visitors to the park.
Une journée au musée
Façade du musée Malartre - © Malartre, 2019

Salle Beau de Rochas du musée Malartre © Malartre, 2019

Entrée du musée Malartre - © Bertrand Stofleth, 2017

Parc du musée Malartre - © Bertrand Stofleth, 2017

Parc du musée Malartre - © Bertrand Stofleth, 2017

Malartre©BertrandStofleth2017_ParcMuseeMalartre_5

Parc du musée Malartre - © Bertrand Stofleth, 2017

Aire de Pique nique dans le parc du musée Malartre - © Cristina Lourido, 2019

Hall Gordini du Musée Malartre - © Cristina Lourido, 2019